Chico's profit rises, meets Street view
NEW YORK, Aug 25 (Reuters) - Women's apparel retailer Chico's FAS Inc (CHS.N) posted a higher quarterly profit on Tuesday 25 August, meeting Wall Street estimates, helped by increases in sales and gross margin, and the company's shares rose 5 percent in premarket trading.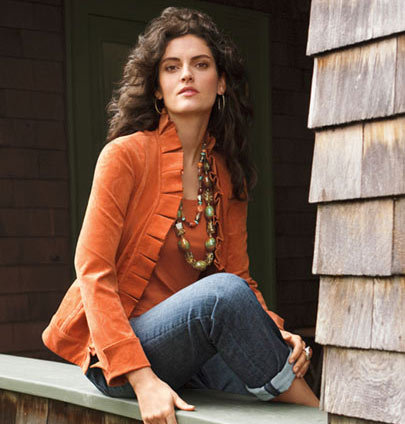 Chico's womenswear - Photo: www.chicos.com
Net profit in the second quarter was $14.9 million, or 8 cents per share, up from $6.7 million, or 4 cents per share, a year earlier.
Excluding one-time items, the company earned 10 cents per share, matching analysts' average forecast, according to Reuters Estimates.
As announced previously, net sales rose 3.6 percent to $419.9 million, while same-store sales rose 1.3 percent.
The retailer, which operates the Chico's, White House Black Market and SOMA Intimates chains, may be emerging from a multiyear slump in which women eschewed the company's fashions for a host of more contemporary rivals.
The company's main chain, Chico's, is geared to women over the age of 40 seeking traditional fashions. But critics said offerings at those stores became too stodgy over the years and did not keep up with modern women's tastes.
Same-store sales in the quarter rose about 0.4 percent at the Chico's and SOMA chains and 3.7 percent at the White House Black Market chain.
The company's gross margin improved to 55 percent of sales from 52.7 percent a year earlier, due mostly to lower markdowns in the Chico's brand as well as higher initial markups at its White House Black Market brand.
Chico's shares rose 60 cents to $12.49 in light premarket trade from their New York Stock Exchange close on Monday 24 August at $11.89. The shares are way up from a 52-week low of $1.74 last November.
(Reporting by Martinne Geller; editing by John Wallace)
© Thomson Reuters 2018 All rights reserved.