Itsy bitsy teeny weeny little salmon skin bikini?
By Sophie Taylor
EDINBURGH (Reuters) - Salmon is one of Scotland's most feted foods, but who knew those scaly skins could be so useful and attractive on anything other than fish?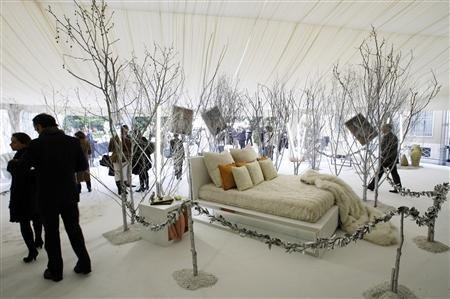 Chilean fashion designer Claudia Escobar, that's who.
Not only did she see a source of cheap raw material in the masses of salmon skin discarded worldwide every year, she has managed to make it into a line of luxury clothing.
Her Lycra-trimmed, ultra-mini salmon-skin bikini, which she describes as durable and elastic, sells for about 250 pounds and a pair of trousers fetches around 750 pounds. Workers receive half the sale value and there is almost no overhead, she said.
"Many people who lived near rivers and oceans have used fish throughout history. It's not my original idea," she said, speaking in Edinburgh's port area. "It's amazing, it's a used product and you transform it into a product with added value."
Escobar, who came to Scotland four years ago, said she sees fashion as a tool to help women overcome poverty by taking traditional, local materials and moulding them into high-priced luxury items. She said tanned fish skins have long been used in Russia and Japan, where they were used to bind sword handles.
She has worked with Mapuche Indians in South America and women in Senegal where she sent them a technique for using fish skins based on their own method of treating goat skins.
As well as a source for helping the poor, making money and giving life to her creative talents, the 37-year old Escobar also has fish to thank for her love life. She met her boyfriend at an aquarium while doing research.
Edinburgh-based Escobar now plans to launch another line based on local materials and has just returned from a trip to pick up wool shed by sheep in the Scottish islands. She is already recruiting people with knowledge of traditional knitting technique.
"As a designer, I don't really need anything but my hands and a sewing machine."
(Editing by Paul Casciato)
© Thomson Reuters 2023 All rights reserved.