Lolita goes Victorian, Goth in Japan cosplay trend
By Hiro Muramoto
TOKYO (Reuters Life!) - You can call it Jane Eyre meets the Addams family, but for the hundreds of Japanese girls who dress in Victorian dresses trimmed with lace, eyes rimmed with heavy black makeup, it's "Gothic-Lolita."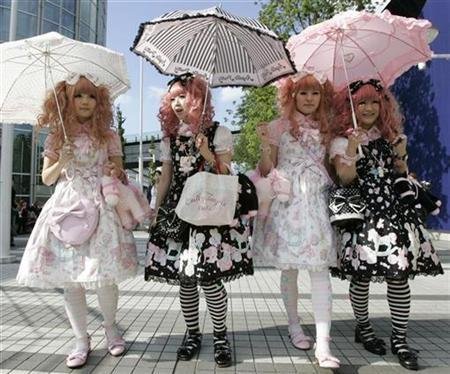 Showcasing yet another example of Japan's love for costume and role play, the women carried parasols, wore laced-up bodices and elaborately curly wigs, as wells heavy make up, during a Gothic-Lolita fashion event in Tokyo this week.
Their style has taken Japan by storm in the last few years, even spreading overseas among fans of Japanese "cosplay."
"Lolita is my basic needs. Without Lolita, I cannot be myself so I'm extremely glad that I found Lolita fashion," Eriko Enokizome, 24-year-old part-time worker, told Reuters.
Cosplay, a combination of the words "costume" and "play," originated in Japan where teenagers gather in streets and parks on weekends to show off their costumes -- and indulge in a little escapist fantasy.
The "Lolita" the women take their name from, however, has nothing to do with Vladimir Nabokov's classic novel.
"Gothic-Lolita fashion is like that special magic that allows me to become a different character," said 25-year-old businesswoman Chizuru Matsuda.
"It's been eight years since I discovered this fashion, but it took me two years to actually complete my overall style."
Gothic-Lolita is not yet high-street fashion, but hundreds of stores sell clothes and accessories linked to the trend throughout Japan and at least three major magazines are dedicated to its fans.
The style has become popular across the country, and some veteran Gothic-Lolita followers complain that its authenticity is being lost.
"I would like all Gothic-Lolita girls to refine their inner beauty first," said 28-year-old Misuzu Kitahara, who, influenced by her mother, has been wearing nothing but frilly Victorian dresses ever since she was born.
"I see a lot of girls smoking and sitting down on the floor in their outfits. I don't want them doing this," she added.
(Writing by Chika Osaka, editing by Miral Fahmy)
© Thomson Reuters 2022 All rights reserved.