Burberry says can beat recession
By Mark Potter
LONDON, June 8 (Reuters) - British luxury brand Burberry (BRBY.L) does not feel threatened by shoppers seeking value for money in the recession, though it thinks so-called "aspirational" consumers are unlikely to return to buying expensive coats and handbags any time soon.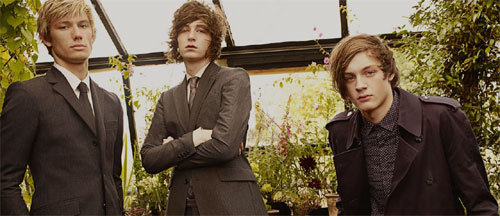 Burberry Menswear Spring-Summer 2009
"There's two parts to consumer sentiment (at the moment). One is price, but the other is a return to things that are timeless and lasting and where there's a return -- a long return
-- on the investment you're making," Chief Executive Angela -- on the investment you're making," Chief Executive Angela Ahrendts told the Reuters Global Luxury Summit in London.
"This new consumer sentiment, I think, actually plays brilliantly for really who and what the Burberry brand is. I think it's kind of our time," she said, adding she was "blown away" by current sales of Burberry's classic trenchcoat.
Burberry, a 153-year-old brand best known for its camel, red and black pattern, has been hit hard, alongside luxury peers, by the global economic downturn, but has mitigated the impact by cutting costs, jobs, inventories and range assortments.
Last month it met forecasts with a 12.5 percent fall in underlying profits for the year ended March 31. [nLJ647605]
Ahrendts said she did not expect spending by aspirational shoppers -- who fuelled a surge in luxury goods spending in recent years -- to return to pre-recession levels any time soon.
"I don't believe they will return to any of the luxury brands as quickly or as aggressively as they were ... buying."
However, she added there were big variations between regions and that other consumer groups, like more affluent shoppers and tourists, could help support demand.
The era of the "it" handbag was probably over, but shoppers are still buying luxury goods and choosing brands that are less likely to go out of fashion," she added.
"They want them (handbags) to last. They want to be able to psychologically know they can carry for them the next couple of years and no one will know how old it is."
CHALLENGES
Chief Financial Officer Stacey Cartwright said U.S. and Spanish luxury markets were still falling, though no faster than before, while Europe and Asia were mostly still growing.
Also speaking at the Reuters Global Luxury Summit, Cartwright said Burberry would cut inventories by a "meaningful" amount this year to cope with tough trading conditions, though not by as much as the 19 percent reduction in 2009-10.
Burberry expects markets to remain challenging for the next autumn/winter and spring/summer ranges, but is optimistic lower orders will allow the industry to avoid a repetition of the discounting frenzy around last Christmas, Cartwright said.
"I think things feel a lot more disciplined," she said of the current levels of discounting for spring/summer 2009.
Cartwright said Burberry's investments in improving its supply chain and IT systems should deliver more than the 15-20 million pounds ($34-32 million) of savings identified so far.
"Undoubtedly the platform that we've now got gives us the opportunity to do more," she said.
Cartwright also said Burberry, which is debt free and recently renegotiated its banking facilities, was in a strong position to take advantage of what she described as some "great opportunities" in the real estate market.
The group said in May it planned to open 10-15 stores, mostly in Asia and the Americas, this financial year.
"We're in a stronger financial position than people were expecting ... If there are more deals that come forward then we will take a look at them," she said.
Ahrendts said boosting Burberry's online presence would be a priority once the group had finished the improvements to its supply chain and IT systems in about six to nine months.
"Then you can absolutely assume those resources will be reallocated over to that channel because we think it will be another great growth opportunity," she said.
(Additional reporting by James Davey and Marie-Louise Gumuchian in London; Editing by Rupert Winchester)
(For summit blog: blogs.reuters.com/summits/)
(([email protected]; +44 20 7542-2943; Reuters Messaging: [email protected])) Keywords: LUXURY SUMMIT/BURBERRY
(C) Reuters 2009. All rights reserved. Republication or redistribution ofReuters content, including by caching, framing or similar means, is expresslyprohibited without the prior written consent of Reuters. Reuters and the Reuterssphere logo are registered trademarks and trademarks of the Reuters group ofcompanies around the world.nL8486571
© Thomson Reuters 2022 All rights reserved.