Escada CEO sells own shares at steep loss
FRANKFURT, Aug 19 (Reuters) - The chief executive of insolvent German fashion house Escada (ESCG.DE) has sold all of his shares in the company at a steep loss, Escada said on Wednesday 19 August.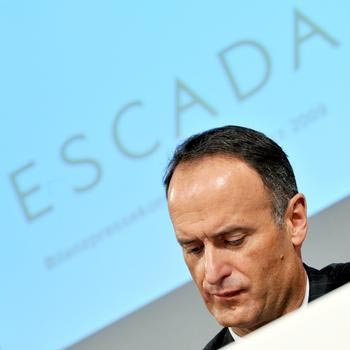 CEO Bruno Sälzer, Photo: dpa
Bruno Saelzer and his wife sold about 286,000 shares for almost 229,000 euros ($322,900) this week -- a far cry from the about 3 million euros Saelzer had paid for the roughly 1 percent stake.
Saelzer took over as CEO at Escada in July last year but was unable to turn the company around as his financial restructuring package failed to win support from bondholders, leading Escada to file for insolvency last week.
Escada said Saelzer sold his stake to avoid potential conflicts of interest as Escada's administrator Christian Gerloff starts talks with would-be investors in the next couple of weeks.
(Reporting by Christian Kraemer; editing by John Stonestreet)
© Thomson Reuters 2022 All rights reserved.