Hugo Boss CEO sees luxury markets strong into 2012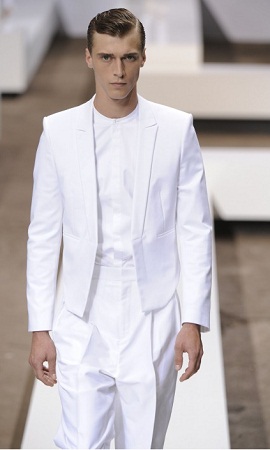 Hugo Boss S/S 2010
(Reuters) -
Hugo Boss
(BOSG_p.DE) Chief Executive
Claus-Dietrich Lahrs
said luxury markets might recover much faster than expected.
"And I don't think this will be a small window that is opening, but that this will continue in 2012," he said at an event at the Frankfurt School of Finance and Management on Thursday.
The luxury goods industry's revenues fell 8 percent last year, according to U.S. consultants Bain & Co, and is climbing out of its worst downturn in decades, buoyed by traveling shoppers from emerging markets.
Luxury goods group
Richemont
(CFR.VX), which competes with
LVMH
(LVMH.PA) and
Hermes
(HRMS.PA), last month posted forecast-beating five-month sales growth of 37 percent as wealthy Asians bought high-end watches and jewelry.
Lahrs was also optimistic about demand for luxury goods from Asia, especially China. He said it was unlikely that there would be a material slowdown of consumer demand in the country.
China is now the world's No. 2 luxury goods market, with sales up 12 percent in 2009 to $9.6 billion, accounting for 27.5 percent of the global market, according to Bain & Co. The figure is expected to grow further to $14.6 billion in the next five years, making it the world's top luxury market.
Lahrs said he expected Hugo Boss, known for its sharply cut suits, to reach its 2010 targets of 3 percent to 5 percent sales growth and a 10 percent to 12 percent rise in earnings before interest, tax, depreciation and amortisation.
Luxury goods companies will have a healthy and strong holiday business this year, he predicted.
"And we expect not only 2010 will develop as we expected, but also that 2011 will be very good," he said.
(Reporting by Maria Sheahan. Editing by Robert MacMillan)
© Thomson Reuters 2022 All rights reserved.