Tod's CEO sees some growth in 2009
MONACO, June 16 (Reuters) - Italian luxury shoe and bag maker Tod's (TOD.MI) should see growth in 2009 despite the global economic downturn, its chairman and chief executive said on Tuesday 16 June.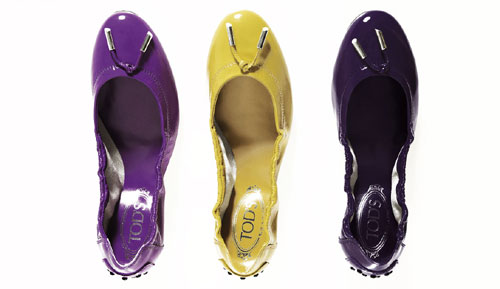 Tod's Ballerina Ladies' Shoes
"I have the impression this year we have seen the stabilisation of this growth trend, although it is small it is still a growth trend ... and it will continue in 2010,"
Diego Della Valle
said at the Financial Times Luxury Summit in Monaco.
"Our company is still showing some growth ... even though we are suffering in the U.S. and Japan like the others are," he said, adding he hoped the United States would help trading in the near future.
Tod's, for which Oscar-winning actress Gwyneth Paltrow has modelled, turned in a 4.4 percent rise in first-quarter core profit as sales were boosted by demand for its shoes.
Revenues rose 5.4 percent to 201 million euros ($277.9 million).
Della Valle told Reuters on the sidelines of the event the company could beat its guidance for the year. Tod's has said its objectives are to maintain and consolidate market share and profitability.
"We are okay with the guidance ... (we) could be better," he said without giving specific figures.
Last month, Della Valle said the final numbers for orders for the winter collections were "good" given the tough climate.
Luxury brands have not been spared by the downturn but some brands are coping better than others.
"By Christmas, maybe not (in the numbers), we will see customers with more confidence ... They will be back to buy what they need. We have in front of us some very good years," he said.
Della Valle said Tod's was planning to revamp company shops to differentiate them from each other around the world.
"If you see the same things all over the world, it is so boring," he said, adding they had started with Tod's shops in Los Angeles. "They have to feel like homes."
Shares in Tod's were down 0.5 percent at 39.70 euros at 0905 GMT. (Reporting by Astrid Wendlandt; Editing by Dan Lalor) ($1 = 0.7232 euro)
© Thomson Reuters 2022 All rights reserved.